The 2021 Subaru Love Promise Customer and Community Commitment Award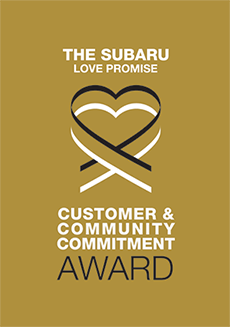 We've been nationally recognized for our dedication to our customers, our community, and the Subaru Love Promise.
We're honored to receive the 2021 Subaru Love Promise Customer and Community Commitment Award. This award nationally recognizes elite Subaru retailers who provide an exceptional customer experience at every interaction with Subaru. These retailers have also demonstrated an outstanding commitment to supporting passions and causes in their local communities in important areas such as the environment, community, health, education, and pets.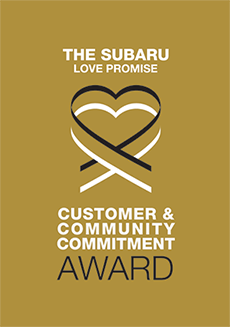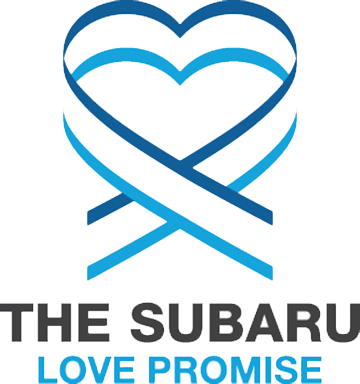 What is the Subaru Love Promise?
Subaru and our retailers believe in making the world a better place and the Subaru Love Promise is our vision of respecting all people. This is our commitment to show love and respect to our customers and to work to make a positive impact in the world.
How is Subaru of Georgetown dedicated locally to the Love Promise?
Subaru of Georgetown is committed to the Subaru Love Promise by getting involved with our community in everyway that we can. Subaru of Georgetown works with local schools, hospitals, rescue centers and charities to try and make a difference in our community.
Dell Childrens Hospital Circle of Friends
Love Promise Stories from Subaru of Georgetown
Subaru and Subaru of Georgetown believe in making a positive impact on the communities in which we live and work. We uphold that belief through our Love Promise Community Commitment. Every month, we select inspiring stories from customers and partners from around our area who strive to support our collective commitment and feature them here
Thank You for Supporting Make-A-Wish - Shelby G
Thank you so much to Subaru of Georgetown for your incredible support during the Share the Love campaign. During a tremendously challenging year for our community and our wish kids, your support gave our children a wellspring of strength to keep fighting for better and brighter days ahead. - Shelby Gill, Chief Development Officer, Make-A-Wish Central and South Texas. More About Subaru and Make-A-Wish: After 13 years, Subaru of America Inc. and its participating retailers will have donated more than $200 million to select charities through its annual Subaru Share the Love Event. Since 2011, Make-A-Wish has received more than $23 million of those funds, a generous sum that has enabled us to grant more than 2,500 wishes.
---
Ruby Finds Furever Love - Gtown Animal Shelter - Shawn G
We know that Subaru of Georgetown works to make our community a better place, in part by supporting local nonprofits. In October 2020, we saw that commitment at a more personal level when Subaru of Georgetown selected the Georgetown Animal Shelter as its partner for Subaru Loves Pets. In addition to donating $100 for each animal adopted during the month, Subaru of Georgetown featured our dogs and cats that were looking for new families. The most poignant story from among the featured pets was Ruby. Ruby came to the Georgetown Animal Shelter in August after being saved from carbon monoxide poisoning and resuscitated by emergency responders. Happily, her neglectful owner agreed to surrender Ruby in her best interest. Staff evaluated her general health, updated her vaccinations, gave her a behavior assessment test, and put her up for adoption…where she sat for almost three months, watching other dogs come and go. Ruby was harder to adopt out because she was very reactive to other animals, plus she had heartworms. Finally, after months of promoting her and shortly after she was featured by Subaru of Georgetown, Ruby's perfect person noticed her and came to adopt her. We were thrilled, needless to say, and so was Ruby and her new human. Thank you, Subaru of Georgetown, for featuring homeless animals like Ruby and increasing their visibility among potential adopters. We deeply appreciate your partnership.
---
Hope Alliance Donation - Rick D
As part of the Subaru Loves to Help initiative, Subaru of Georgetown donated blankets to the Hope Alliance organization. Pictured here is Jasmine, who was on hand to accept the donation. Hope Alliance's mission is "To assist those whose lives have been affected by family and sexual violence by providing safety, services and developing partnerships that lead to hope, healing, and prevention." We hope our donation gives them the opportunity to provide extra comfort to those in need.
---
Tito The Tortoise Visit! - Tito T
Tito the Tortoise came to help kick off the Share The Love Program at Subaru of Georgetown this year! Hayley, Executive Director for Austin Wildlife Rescue, stopped by in November with Tito to visit staff and customers and teach them about what Austin Wildlife Rescue does for our communities' animals in need. Austin Wildlife Rescue has helped more than 8,000 orphaned, injured, and sick animals in 2020 so far. Their programs are 100% donation driven, so we hope you will share in supporting this great community program. Subaru of Georgetown hopes to also surpass last year's donation of $47,967 from the Share The Love event!
---
Georgetown Animal Shelter + Subaru of Georgetown - Chris B
Subaru of Georgetown is committed to helping keep animals healthy and safe, and that's why the month of October is so special to us. Throughout this month, we are taking in any donations for pet supplies here at Subaru of Georgetown. Whether you want to drop off food, toys, or cleaning supplies, we will take and disperse it to our local partners to help animals in need. This October, Subaru of Georgetown also going the extra mile and donating $100 each day to aid in the adoption of a pet from Georgetown Animal Shelter! We hope you will join us in donating to the Subaru Loves Pets initiative or by adopting a pet in need of a good home!
---
Subaru of Georgetown Helps Keep Austin Wild - Chris B
We are excited to share our donations to Austin Wildlife Rescue (AWR) through the Share The Love program were used to purchase an x-ray machine for their new wildlife rehabilitation center in Bastrop County. Austin Wildlife Resuce says "We would not have been able to secure this piece of equipment for a few more years if it were not for the great people at Subaru and all of you that bought a Subaru and chose AWR to receive the funds." Subaru of Georgetown is excited to share that Austin Wildlife Rescue will be part of the 2020 Share The Love program with our dealership!
---
Georgetown Subaru Brings Blankets and Smiles - Alyssa W
Georgetown Subaru brought blankets and smiles to many patients receiving treatment at Dell Seton Medical Center at The University of Texas on July 26, 2019. This was such a special day for Rick of Georgetown Subaru because his brother-in-law, Forrest, was treated at this exact hospital just 10 months ago. Forrest was diagnosed with a rare blood cancer and was given a slim chance of survival. Thanks to the nurses and doctors at Dell Seton at UT, Forrest was able to join Georgetown Subaru to deliver warmth and hope to other patients being treated there. Forrest spoke to almost every patient in the room and let them know how wonderful their nurses and doctors were. It provided so much hope for everyone in the room. Each patient accepted their blanket with a smile on their face. Thank you to Georgetown Subaru for helping to bring light to the darkness of cancer, and supporting the mission of The Leukemia & Lymphoma Society!
---
Subaru of Georgetown Helps Keep Austin Wild - Hayley H
Subaru of Georgetown chose Austin Wildlife Rescue (AWR) as their hometown charity during the Share the Love event. AWR rehabilitates and releases orphaned and injured wild animals and educates the public to co-exist with wildlife. We help 6,500 wild animals each year that are brought into us from Austin and several surrounding counties. As a small non-profit, we depend fully on donors, fundraisers, and grants to continue our mission. Last year, the donation from Subaru helped us complete our new wildlife rehabilitation facility when we were running low on funds. We were able to successfully open in April of this year and we would not have been able to do that without Subaru of Georgetown. We recently received the funds from this year's Share the Love event totaling $42,362! This gift will help purchase much needed medical equipment for our new facility. Thank you to Subaru of Georgetown and everyone that chose Austin Wildlife Rescue as their charity recipient! Thank you for keeping Austin wild!
---
Wildlife Rescue Inc. - Rick D
For 2017 we choose to partner with Wildlife Rescue Inc.. The staff at Wildlife Rescue does a tremendous job caring for injured wildlife and returning them to their native lands. Thru the Subaru Share The Love Program we were able to raise $39,319.00 . I know they will be able to put it to good use. Wildlife Rescue, Inc. is a non-profit organization dedicated to helping sick, injured, and orphaned wildlife in the Austin area. They have been a proud Central Texas tradition since 1977. Wildlife Rescue started as a small group of concerned individuals from diverse backgrounds with a common interest in providing experienced care for wildlife. From the small core of individuals, Wildlife Rescue has grown into a widespread network of licensed rehabilitators, trained staff members, and dedicated volunteers. Over 6,000 wild animals are cared for each year. Our Intake Center is open to the public for drop offs and the Wildlife Rescue telephone hotline is answered daily to assist with your questions about local wildlife.
---
St. David's Georgetown Cancer Center - Jessye P
St. David's Georgetown Cancer Center received blankets, arts and craft kits and messages of hope this year from Georgetown Subaru on July 5th. Representatives from Subaru, Leukemia and Lymphoma Society and the Hospital sat around the table talking about how cancer has been in our lives, when one of the representatives from Subaru said his mother had just finished her radiation treatment last week at the center. The nurse leaned over, looked at his name tag and realized he knew his mom and had been her nurse throughout her treatment. The Patient Access coordinator, as well as the transfusion nurse were so excited about the arts and crafts kits for the children that come in while their mom or dad are getting treatment. They were also very excited about the hope cards that the customers of Subaru had filled out for them. The Patient Access coordinator, a cancer survivor, shared how much the patients would appreciate reading words of encouragement and receiving the blankets, having that support from their community to help uplift their spirits. It was such a special day being able to spread love, hope and warmth to those fighting for their lives.
---
The (Sales) Force Makes My Tail Wag, Says Anakin! - Sheri S
Anakin, the movie guy I was named for, once said: "Mom, you said that the biggest problem in the universe is no one helps each other." I, Anakin the Service Dog, know the opposite is true at Subaru of Georgetown where the extraordinary sales "force" broke its record in the 2016 Share The Love campaign and raised $57,842.82 for Service Dogs, Inc. I wanted to bark for joy but kept it to a professional tail wag, as I and my partner SDI grad Doug Fullerton watched GM Rick Davis and his colleagues present the Millennium Falcon-sized gift to SDI President Sheri Soltes. You see, all the dogs and I at SDI come from animal shelters. SDI breaks us out and trains us to help folks who can't hear or walk or have other health Rancors, Wampa and Gorogs. Thanks to the heroes of Subaru of Georgetown and other donors, SDI provides me and other specially trained dogs free of charge. If it wouldn't kill the franchise, I'd recommend Subaru of Georgetown to fix that mess in the universe my screen version was complaining about! In the meantime, they'll have to just set a stellar example on this planet. Anakin, Service Dog to Doug Fullerton Service Dogs, Inc. Alum
---
Soup for Seniors - Lauren M
Subaru of Georgetown partnered with Opportunities for Williamson & Burnet Counties - Meals on Wheels in our recent Soup for Seniors project. The goal was to create awareness for our local program while collecting soup for local seniors to have through the holidays and the winter months. Daniel Wolfenstein and his staff were great in helping promote and gather food donations. Thank you to Subaru of Georgetown for helping feed our local seniors and assisting us in keeping seniors healthy and independent as long as possible.
---
Service Dogs Inc. Share The Love Fund Raiser - Sheri S
This year we partnered with Service Dogs Inc. for The Subaru Share The Love Event. Service Dogs, Inc. is a non-profit organization that trains Hearing Dogs and Service Dogs to assist people with disabilities. They train Hearing Dogs to alert their deaf owners by touch and lead them to everyday sounds, such as a door knock, smoke alarm or telephone. Service Dogs assist individuals with physical disabilities by opening doors, fetching wheelchairs, retrieving dropped items, operating light switches, moving paralyzed limbs and getting help. They adopt all of their dogs from animal shelters and rescue leagues. Utilizing positive reinforcement, They train the dogs, pair them with their new partners and then train them as teams, all free of charge to the recipients. This year with the gracious help from Subaru we were able to present Service Dogs with a check for $42,156.00. This money will allow Service Dogs to train 2 dogs which we have proudly named "Outback" and "Legacy".
---
Subaru of Georgetown Proudly Partners with Capitol Best - Greg Y
Subaru of Georgetown partnered with Capitol Best approximately 6 years ago to help give students a facility to test drive their early robotic concepts on the actual playing field that they will later compete on. Over 100 students and parents meet at the Subaru of Georgetown facility annually and use the facility to set up their course and work stations. Capitol Best (Boosting Engineering and Science and Technology) is a non-profit organization that organizes a yearly engineering contest designed to inspire students towards further studies in the fields of science and engineering. Starting from a box of raw materials, middle school and high school teams of students are given 6 weeks to design, build and then demonstrate a remote-controlled machine that will perform a given task. Engineers and scientist from local industry team with the students as technology coaches, whose job is to mentor and guide the students in understanding the engineering process, teaming, brainstorming and other business principles. On the contest day, teams pit their machines in a head-to-head sports like competition to see which is best. Winners advance to the Texas BEST regional competition held each year at The University of Texas Dallas.
---